3rd Canal And GTR History
In 1867 Prime Minister Sir John A. Macdonald's government makes plans to construct a third Welland Canal to accommodate the vessels using the other two canals that were already in use. So in 1870 Construction on the third Welland Canal begins.
In 1875 The Great Western Railway company required a more durable and less interrupted way to cross the third Welland Canal.
Shortly after, work begins on the Grand Trunk Railway Tunnel by the federal Department of Public Works. A single track tunnel, between locks 18 and 19 passing under the third Welland canal.
1875 - Construction of the Grand Trunk Railway Tunnel Begins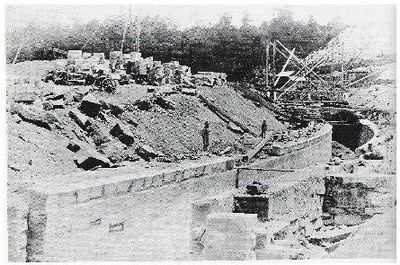 In 1876 The Grand Trunk Railway Tunnel is completed in less than 1 year. It measures 665 feet in length or 713 feet when accounting for the winged stone work at both ends. The tunnel was constructed with hand cut limestone blocks from the nearby Queenston quarry.
Completed Grand Trunk Railway Tunnel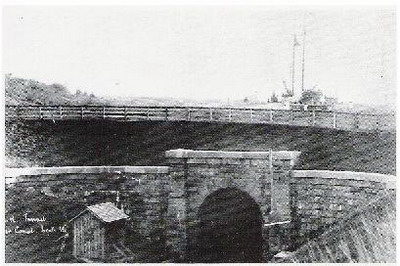 In 1882 The third Welland Canal officially opened and The Great Western Railway was merged into the Grand Trunk Railway System. The latter company was the first to use the Grand Trunk Railway Tunnel.
The Grand Trunk Railway Tunnels days were numbered to limited traffice, in 1887 The Grand Trunk Railway completes laying its double track network. And a new double tracked swing bridge is erected north of the tunnel near lock 17. This swing bridge is still in use today.
The Double Tracked Swing Bridge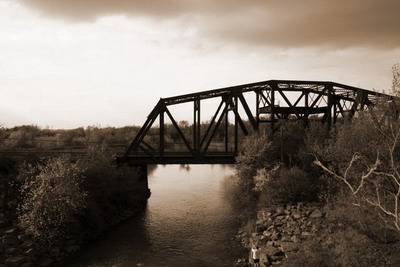 In 1903 On January 3 the GTR's No.4 Express train collided with a Mogul steam locomotive running light (no train) approximately 100 yards from the west entrance to the Merritton Tunnel. Two railway firemen (who managed the steam locomotive boilers) were killed. Mr. Charles Horning was killed instantly Abraham Desult sustained burns on 90% of his body and died 5 hours later in St. Catharines General Hospital .
On August 1, 1912 at 7:00am the steamship La Canadienne lost control in the third Welland Canal due to mechanical problems in the engine room. The ship collided into and through lock 22's flood gates. 4 boys fishing near the lock were swept away by the small wave created by the crash, however, only 1 was rescued.
August 1st, 1912 Accident at Lock 22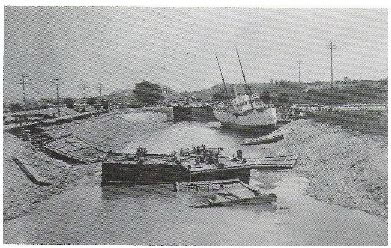 1913 Plans begin to build the fourth Welland canal.
Harry Eastwood was the last person to pilot a train through the Grand Trunk Railway Tunnel in 1915 . The tunnel is used only by farmers to relocate their herds of cattle to fields across the canal and is soon forgotten after the 4th and current Welland canal opens. The tunnel entrances become overrun with trees and thick brush.
The Tunnel After Closure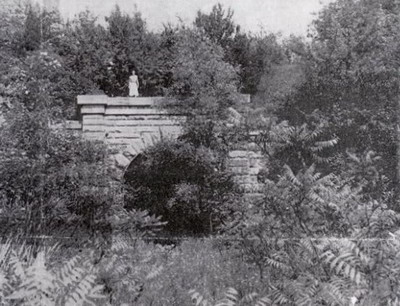 The Tunnel Today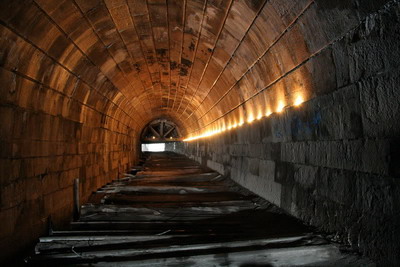 Submitted by : Kevin Valencourt