2nd Welland Canal - Locks 1 - 5
Lock One - Port Dalhousie Harbour
Entering in to Port Dalhousie, via Lakeport Road, you follow it around and make a slight right hand turn on to Front St. As soon as you make the right on Front Street, pull over in front of the stores and park. Directly ahead of you is the remains of Lock One of the Second Welland Canal. This has been well preserved as you can see from the pictures.
Here are some pictures of Lock One: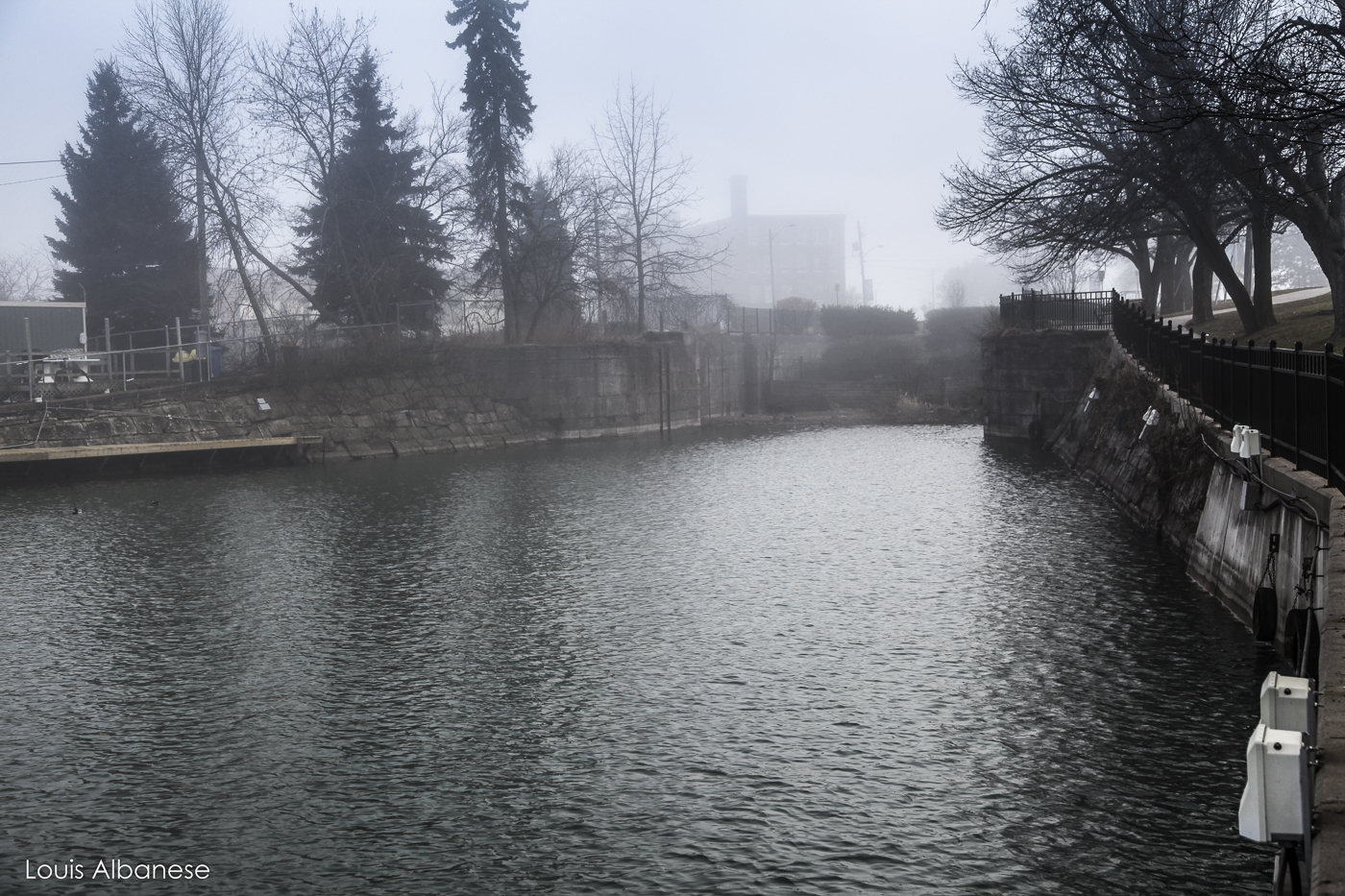 Lock Two - Wellandvale Area
Leave Port Dalhousie and head up Lakeport Road to Ontario Street. Turn right on Ontario Street and follow it up until you come to the intersection of Ontario and Welland Avenue. Turn right on Welland and then you will see an almost immediate right hand turn on to Wellandvale. Take this right and follow it down the hill until you come to a bridge across the Twelve Mill Creek. Once you pass the bridge, you can pull over and park. Directly under the bridge is Lock Two. All that is still standing is one wall.
Here are some picture of Lock Two:
Lock Three - Glenridge Avenue / Highway 406 area
To find lock three, go back to up the hill and turn towards Ontario Street and once there turn right and head up towards St.Paul Street. Cross over St.Paul Street and take an immediate right on St.Paul Crescent. At the end of this street, you will see a walkway across highway 406. Walk across this bridge and at the end, before heading down in to the valley, look down and to your left and you will see it next to the trail.
Here are some pictures of Lock Three:
Recently Niagara Regional Councillor Bruce Timms, headed up a movement to unearth Lock Three and had a team escavate the remains of this buried treasure. In a email received from Bruce, he stated to me "It was your photos of the stones peaking out that inspired me to get the dig done." Always good to know that my hard work and dedication gets noticed and inspired others!
Here are some pictures of Lock Three Unearthed.
After viewing Lock Three, head back to the car, and turn on Westchester Avenue and when you reach the second set of lights, turn left on to Geneva Street (crossing over the 406). Turn right at the arena (Gale Crescent). At the four way stop, head straight on through. Once you start going around the bend you will see a park on your right hand side, this is where you are going, however you need a place to park. Follow Gale Crescent all the way until you come to a stop sign. This is Oakdale Avenue. Make a right and head down the hill. Near the bottom of the hill you will see a small parking lot on the right. Pull in here and this is the parking lot for Centennial Gardens. This is where our journey begins.
Lock Four - Centennial Gardens
Head off in the direction that you basically came, as Lock Four lies at the back end of this park. Keep walking along the trail, go through the Totum Pole center piece and then you will notice the trail turns in to a fork. Take the left path down next to the water. As you walk along the path, you will see Lock 6 of the First Welland Canal at your left hand side. Keep walking and just before you come to the sewar gates, look down and you will see a pile of limestone rocks on both sides of the creek. This is where Lock Four was back in its time. Its hard to imagine what it was in its day, but trust me, after comparing with charts and maps, this is where is lies today.
Here are some pictures of Lock Four:
Lock Five - Centennial Gardens
Now that have seen the ruins of Lock Four, its time to see Lock Five. Head back towards your car at the parking lot. As you come closer to the parking lot, keep following the trail. When you notice the trail head up towards the road, keep going straight, you will notice a dirt path. Keep following it in to the wooded area. You will soon notice the outer walls and a tunnel. Head down closer and you will see the tunnel is in fact Lock Five with the road built over top of it.
Here are some pictures of Lock Five: